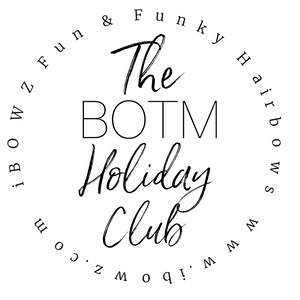 iBOWZ Fun & Funky Hairbows
BOTM Holiday Box | Subscription bow club | New Holiday Bow Every Month | iBOWZ Fun & Funky hairbows
Regular price
$ 14.00
$ 0.00
Unit price
per
Tax included.
BOTM Holiday Box 
Are you always forgetting to get those Holiday bows for your daughter?  
That's so frustrating not having a cute holiday bow for your girl on that special day. 
Don't worry, we have you covered.
No more being that Mom, with our iBOWZ Holiday Bow Box.
 With iBOWZ you'll girl will have a holiday bow for every holiday.
 The Holiday Bow box is for your sanity, Mom!
What is the BOTM Holiday box? 
The Bow of the Month (BOTM) is 1 New, Exclusive, Holiday Bow for every
 Holiday Season shipped to your door, every month.  
The Holiday bow box will arrive just in time for Holidays ~
These prints are Exclusive to the Holiday Bow Box,
you won't see these prints on any bow show or the website.


Why Order the BOTM Holiday Box? 
Never have to run around town looking for that Perfect Holiday Bow or ordering a bow that's just going to fall apart after one wear. 

1 New Holiday Bows are Shipped to your door every month!

Exclusive Prints only for the Holiday Bow Box

Save 10% off every box when you subscribe  (shown at check out)

Free shipping every month
Subscribe & Save !
Choose your bow size  & Subscribe 

You will be charged at the time of sign up and the then on the 15th of every month 
Holiday Bow Boxes ship out the around the 15th of each month & up to 5 days after

  

You may cancel or pause your box any time, just log in to your account and click the manage your subscription box. Orders must be canceled 10 days before the next charge


Please note The BOTM Holiday & The Holiday Bow Box prints are the same, if you purchase the BOTM, you will be receiving one of the prints from the Holiday bow box


***2023 Holiday Schedule ***
Please remember Orders placed by the 15th of the Month,
 

will ship out around the 15th of the following month
(EX. January box would be ordered by December 15th and shipped out in January)
JANUARY BOX- VALENTINES THEME (SHIPS 3rd WEEK OF JAN.)
February  BOX-   ST. PATRICKS DAY THEME ( SHIPS 3RD WEEK OF FEB.)
MARCH BOX-  EASTER  THEME (SHIPS 3RD WEEK OF MAR.)
APRIL BOX- MEMORIAL DAY THEME (SHIPS 3RD WEEK OF APRIL)
MAY BOX- SUMMER FUN  THEME (SHIPS 3RD WEEK OF MAY)
JUNE BOX - SCHOOL THEME (SHIPS 3rd week OF JUNE)
JULY  BOX - FALL THEME (SHIPS END OF JULY )
AUGUST BOX- HALLOWEEN THEME (SHIPS END OF AUG.)
SEPTEMBER BOX- THANKSGIVING THEME- (SHIPS END OF SEPT.)
OCTOBER BOX- CHRISTMAS THEME (SHIPS END OF OCT.)
NOVEMBER BOX-  NEW YEARS THEME (SHIPS END OF NOV.)
DECEMBER BOX- MARDI GRAS THEME (SHIPS END OF DEC.)




---
Share this Product
---